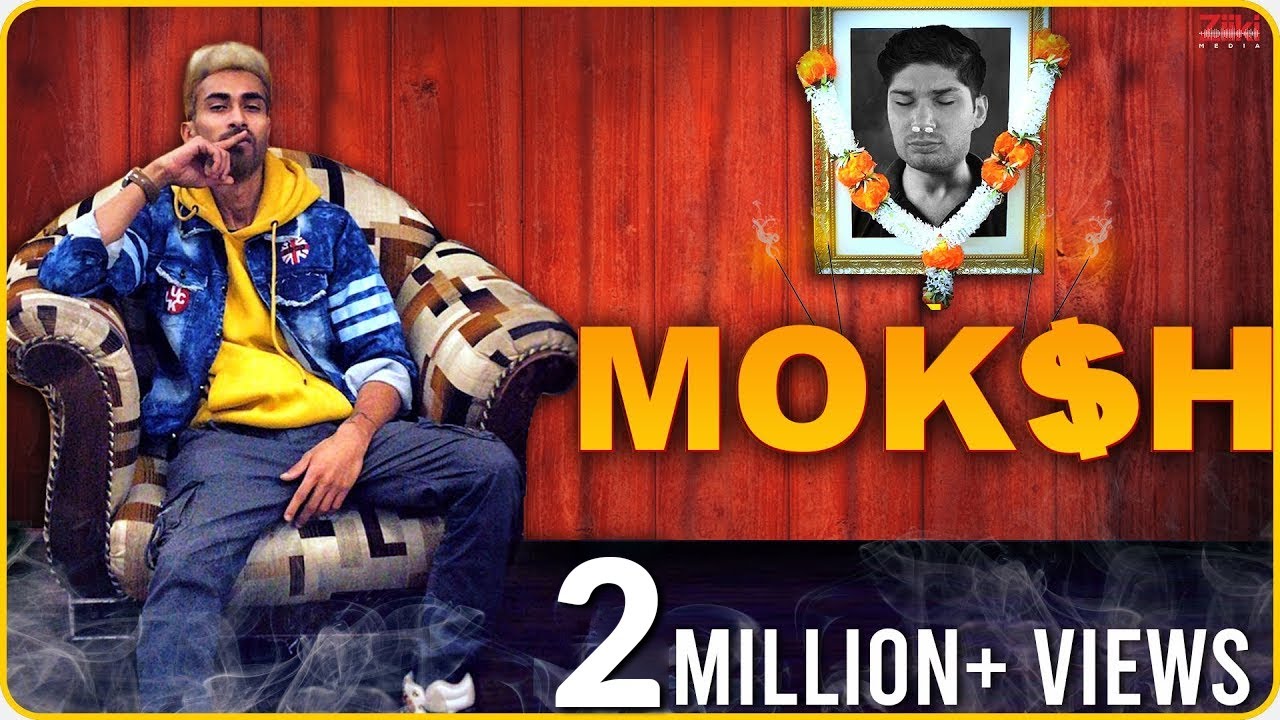 MOKSH Rap Lyrics - Muhfaad – #LyricsBEAT
| | |
| --- | --- |
| Singer | Muhfaad X Maharaj |
| Music | KARTAVYA |
| Song Writer | Muhfaad X Maharaj |
This Hindi Rap Song 2020 Performd By Muhfaad X Maharaj . It's Diss Track For KR$NA , Full Lyrics Video. KR$NA Artist Perform On Behalf Of The kalamkaar Channel.




Tum bahut dare huve ho
(Chup kar madarc**d)
Poshampa bhai poshampa
Kalamkaar mein kya hua
Ek launde ne ga**d marayi
Ab to sabko aana padega
Khel ki chot bhi khaani padegi
Haar ke gham mein peena padega
Apni umar se chhote rapper ke
Under signed hai, sharam kar
Repeat it loud motherfu**er
With me when I say f*ck Kalamkaar
Inki duniya hai ch*tiya
Baaki sab samajhdaar
Repeat it loud motherfu**er
With me when I say f*ck Kalamkaar
Team se mile push ab kyun ki teri ho gayi umar
Aur iss beef ke baad pata ni kab jaye tu mar
Muhfaad beta bina bole gaadhta zameen mein
Grow hote underground rappers phir scene mein
Dolla sign ni main Sikka
I mean main sach mein Chanakya
Bro tere maalik ka
Gardan pe aa lipta
Par dhyaan de kya likha
Use karun gaali ka
Ankit bhai maine diss poori fair maari
Krsna khilona maine gudiya ye bech maari
Zindagi bhar rakho chahe ye kalesh jaari
Hilana paaoge ye Angad ka pair bhaari
Achi khaasi zindagi mein hadbadi sa
Chinal ka ilaaj laaya sarchadhi ka
Moot mein se pakadte macchi ni hum
Shark tere jaise wo moot jalpari ka
Tu sabse khokhla aadmi gole ka
Shiva vaani me tandav bhole ka
Tu meri bandi ko jaanta hi nahi
Funsi se chhota hai size tere l*de ka
Taango ke beech joda ajwain gote ka
Muhfaad ko fark ni
Wo 10 fan kho dega
Gharwalo pe bolega
Gaurav maa ch*d dega
RAGA ke saath wali kabr teri khodega
Aur ye besura baat kare classical
Bhaiyon kisi bhi sur mein paad do to
Krsna hi bolega
Inke peeche se ladne ko baap tau bhot hai
Zindagi mein roz meri taapta hu maut main
Tu dhamkiya deke bane cool thand rakh
Teri lanka dahegi phir se Raavan ko khauf hai
Ye hota kya Awww..
Aise to karti lugaai hai
Bolo beta #RAA
Muh mein lene ka time hai
Beta muh kholo aa
Kela milega lunch time me
Chhinal boli wah
Yeh to acha khasa size hai
TV pe aaya main career ke teesre mahine mein
Fame ki chull to tabhi khatam thi seene mein
Kiya hustle tabhi pahucha yaha tak
Artisttaan maar ke aaya
Tujh behn ke deene pe
Ghoomte saare ye jhund mein
Seh pariwar jal jaao jaake kund mein
Uthega dhuaan, dikhega ni dhundh mein
Banty ka size bada, mod le bund mein
Saanpo ke pariwar mein chhoda hua nevla
Kha jayega rakh ke chhinal ja plate la
Dish mein diss aur thoda bhot hate la
Manager ka aage inse pehle jaata pet aa
Welcome Krsna ki aaj hai goad bharayi
Bharne ko goad teri maut ghar aayi
Maharaj ne dharti pe dhoom machayi
Main kab hua beta 3 label se signed?
Tere facts bhi galat
Teri maths gadbadaai
10 ghante mein ch*tiye
Wo diss thi banaai
Aur teri kaali copy
Tera ek aur bhai
Jisne hustle ke stage se janta banai
Career se reality show hata do to
Reality mein show layak ghanta ni life
Izzat se beth ja ya khada ho ja
Izzat mein Ziiki DMF dono saath mere muddat se
Kaafi log karna chahte the sign par
Main bhi kisi ek hoon woh bhi poori shiddat se
Ye itna purana kare museum reject
View mile jo kisi ke used mile facts
Tujhe de raha hoon na par tu bhi toh de
Hua ni us din kyun subah soundcheck?
Fact ke naam pe tune sabko ye goli di ki
Mere akele ki saans show pe phooli thi
Macha ni halla
Par b*tch m a dawg pe public waha jhoomi thi
Tere baare mein karu kyu brainstorm
Teri zindagi career dono lame bhot
Teri team ke bina tu apaahik hai chhinal
Main one man army, still the same god
Mr Yellow tooth don't you dare bro
Main udta parinda, tu scared crow
Fact ke naam pe personal attack
Khuda na khasta main cheenku bhi zeher bro
Punchline Ankit ke maathe pe khat khat
Headshot parivar khatam laaya main sankat
Mara gaya Nandlala tera natkhat
Ab gopiya bhagengi chhod ke panghat
Ho jaao saare ikatthe
Praja meri dekh legi
Sharam ki baat hai
Poori fauj hila di ek ne hi
#Rapsongnewlist2020
#ChangerLyrics